Mushroom Miso Pies – By Mandy Hall
Recipe by Mandy Hall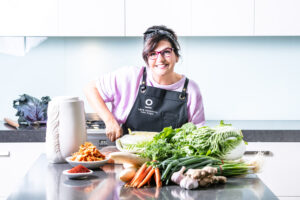 Ingredients
Makes 2 large single-serve pies – increase as required.
2 sheets Puff pastry
300g Mushroom – could use Swiss Brown, Button or Portabello or combination of all
2TB olive oil
1 big knob of butter
3 spring onions
1/2 cup cream
2TB miso
1TB plain flour
cracked pepper to taste
1 egg yolk or milk for brushing pastry
Method
Defrost your pastry and keep in the fridge until ready to use
Preheat oven to 180c
For this recipe, I have used 2 x 12 cm pie tins, but you can use any baking vessel you like.
Cutting the pastry – use your baking vessel as a template, cut the base of your pie, ensure you allow extra cms for shrinkage, do the same the pie tops.  Cut wisely and use your excess pastry for decorations!
Take your vessel and line with baking paper if you need or if it's non-stick, simply place your base pastry and line the tin, working gently & pressing down to ensure you are getting into all edges, also ensure that your base comes all the way up to the top of the tin lip. Using a fork, prick your pastry base and prepare for blind baking (see notes), place into the preheated oven for 10 mins, remove and set aside.
Roughly chop your mushroom and all of your spring onions, leaving 1/3 of the green tops to the side for later use.
Heat a frypan on med to high heat, add olive and then butter, when the butter has melted add mushrooms and spring onions, cooking gently & stir now and then.
Whilst that's cooking combine your cream and miso, stirring well to mix fully.
When the mushrooms and spring onion have cooked for 5 minutes, add the flour to the pan and store well but gently for 1-2 minutes, add the cream and miso mix, reduce heat and continue to stir gently whilst it thickens, cook for 3-5 minutes.
Turn off heat and let cool slightly, stir through green spring onion tops.
Spoon mushroom mix into pie tins, cover with your pastry top and any pastry decorations, crimp all edges of your pastry top to your base using a fork or fingers, brush tops with yolk or milk and bake in the oven until crisp and golden.  Enjoy.
*blind baking – this stops your pies having a soggy bottom!  After lining your pie tin with a pastry that comes to the top of the tin and lip and pricking that base, line with baking paper and fill with weights, you can use pie weights; personally, I like to use rice, it's just the right weight and gets into every corner and bend (you can keep the rice after use and use for the next time you bake) then place into the oven to pre-bake (blind bake) and crisp up without overcooking.
Or follow her on Instagram here.