Mushroom Sharwarma on Zaatar Flatbread- by Mandy Hall
As cooked by Mandy's  on Thursday November 15 for National Mushroom Day.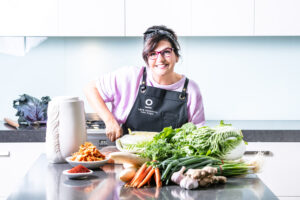 Mushroom Sharwarma
Ingredients
500g Portabello or Swiss Brown Mushroom sliced thickly or hand shredded
½ TB cumin
½ TB ground coriander
1.5 tsp smoked paprika
1 tsp garlic powder
1 tsp onion powder
1 tsp of soy or tamari
2 TB oil
2 TB butter
Ground pepper to taste
Method
Shred or slice mushrooms into thick slices, place into a bowl and add all other ingredients except butter , combine well & set aside.
When ready to cook, heat frypan, add oil and butter and cook until soft and golden and liquid from mushrooms has reduced, serve in flatbread with Choban Salatasi – Shepherd's salad and Yoghurt Sauce
Zaatar flatbreads
Ingredients
1 cup self raising flour
½ cup plain yoghurt
1 tsp salt
2 tsp zaatar – can omit
1-2 TB olive oil – 1 TB for dough, 1 for frypan
Method
All into a large bowl, combine well to form a dough and leave to rest (even 10 minutes is good), portion into four and with a rolling bin on a floured surface, roll out into desired shape, into a very hot pan with some olive, turn each side until golden, cover with tea towel to keep warm until ready to serve.
Choban Salatasi – Shepherd's Salad
Ingredients
1 cucumber finely diced
½ capsicum finely diced
1 large tomato finely diced
½ red onion finely sliced
3 tb finely chopped fresh parsley
1 teaspoon sumac
olive oil
lemon juice
salt and pepper
Yoghurt Sauce
Ingredients
1 cup Greek Yoghurt
1 tsp Tumeric
fresh mint chopped
Pinch of Salt
Method
Combine together in a bowl, spread on base of pitta before adding Mushroom Shawarma and salad