Panko Mushroom Burgers 3 Ways – by Helen The Greek Vegetarian
Helen The Greek Vegetarian recipe as presented on National Mushroom Day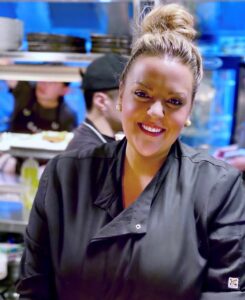 This recipe showcases three different flavour combinations from Asia, Greece and the mixed Mediterranean. 
Yield: Makes 2 burgers per flavour combination, 6 burgers in total. 
Cooking & Preparation time: 30 minutes 
Ingredients:
8 Large SA Mushrooms, button mushrooms  

250g Panko breadcrumbs 

6 eggs 

Pickles 

2 slices Swiss cheese 

100g feta cheese, crumbled 

100g Halloumi cheese 

1 large tomato, sliced

2 cups coleslaw 

2 cups baby spinach leaves 

2 cups baby rocket leaves 

3 tablespoons Tzatziki 

3 tablespoons Hummus 

3 tablespoons tomato chutney

3 tablespoons kewpie mayo 

6 Brioche buns 

Lemon juice 

Szechuan seasoning 

Greek seasoning 

Mediterranean seasoning 

Vegetable oil 

Olive oil 

Salt 
Method
In 3 different bowls, divide the breadcrumbs and sprinkle in 2 teaspoons of each of the seasonings in the bowls along with a pinch of salt in each.  
Beat the eggs in a large bowl and set aside then slice the mushrooms into 1cm slices and place into the beaten egg in batches.
Divide the mushrooms into thirds and place into each of the panko breadcrumbs and coat well. 
Using a deep frying pan, pour enough vegetable oil into the pan to cover 3-4 cm of the sides of the pan and heat to a medium heat. 
Once the oil is heated, fry the mushrooms in batches per flavour combination until golden. Remove from the pan onto some paper towel to drain any excess oil. 
Meanwhile, slice the halloumi into 1cm pieces into a lightly drizzled olive oil pan. Cook the halloumi until lightly golden then squeeze the juice over the halloumi. 
Assembly
For the Asian Style Burgers: smear kewpie mayo on the top and bottom of the bun lids. Add some coleslaw to the base of one bun and some pickles to the top of the bun. Add in the Szechuan mushrooms then top with a slice of Swiss cheese. 
For the Greek Style Burgers: smear Tzatziki on the top and bottom of the bun lids. Add sliced tomato and baby spinach then add in the Greek style mushrooms then sprinkle with feta cheese. 
For the Mediterranean Burgers: smear hummus on the bottom bun lid and chutney on the top of the bun lid. Add the rocket then the Mediterranean mushrooms. Top with the halloumi cheese.