Mushroom, Baby Spinach & Chickpea Curry – by Callum Hann
Recipe by Callum Hann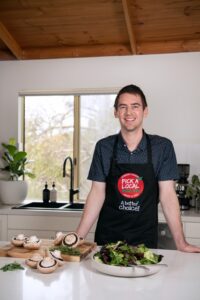 Ingredients (serves 4)
2 Tablespoons extra virgin olive oil
4 Medium sized portabello mushrooms, sliced
2 Cups button mushrooms
3 Spring onions, finely sliced
4 Cloves garlic, sliced
1 Red capsicum, finely sliced
Thumb-sized piece ginger, peeled and grated
1 Bunch coriander, leaves picked, stems finely sliced
2 Tablespoons Garam Masala (Indian spice blend)
1 Tablespoon mild curry powder
400g Can crushed tomatoes or one punnet of cherry tomatoes
400g Can chickpeas, rinsed, drained
270ml Can low fat coconut milk
2 Cups baby spinach
½ Cup basmati rice, cooked, to serve
Lime wedges, to serve
Method
Heat olive oil in a large high-sided frying pan over high heat. Add mushrooms and cook (in batches if necessary) stirring, for 3-4 minutes or until lightly golden. Add spring onions, capsicum, garlic, ginger and coriander stems (reserve leaves for serving) and cook for 1-2 minutes or until fragrant.
Stir in Garam Masala and curry powder, then crushed tomatoes. Simmer for 5-10 minutes or until tomato mixture has thickened and darkened slightly. Stir in chickpeas, coconut milk and baby spinach. Cook until spinach wilts.
Divide rice between serving bowls, top with curry, coriander leaves and serve with lime wedges.
Callum created this recipe for Sprout Cooking School – check out more recipes at www.sprout.edu.au