Citrus delivery KickStarts Breakfast for SA Kids in Need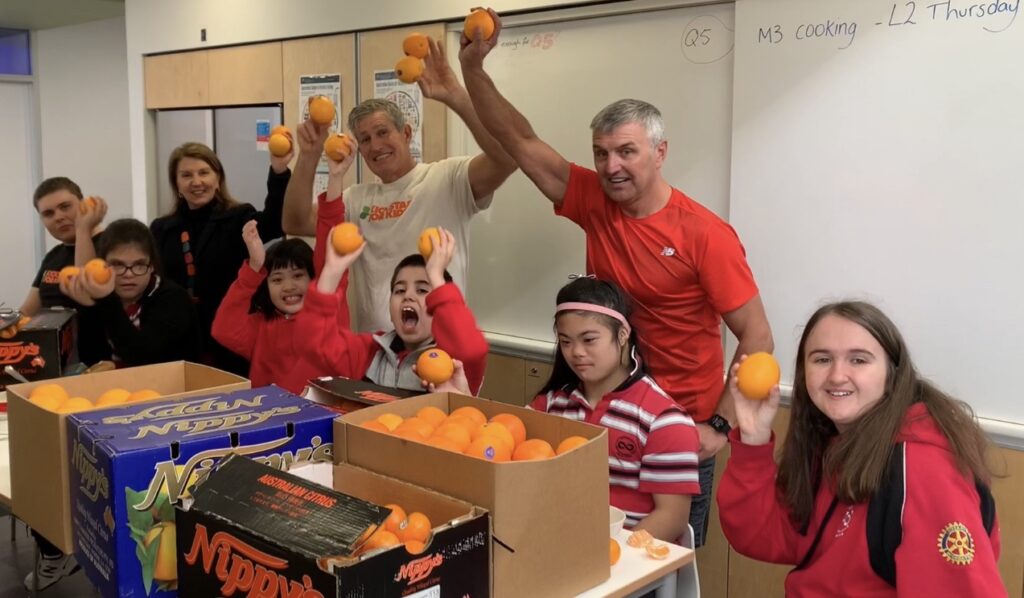 Kickstart for Kids breakfast program today received a 200kg delivery of SA grown citrus as part of a Statewide campaign that has delivered two tonnes of oranges to school children this month.
The campaign kicked off on May 12 when Minister for Primary Industries and Regional Development, Hon Tim Whetstone MP officially launched the SA Citrus season at the South Australian Produce Market, followed by a delivery of fruit to students at Pooraka primary school. A further nine northern metropolitan primary schools received deliveries of more than 350kgs in that week.
The four week campaign of fruit donations continued with deliveries to Adelaide Hills Junior Soccer Clubs, SA Districts Netball Association, Foodbank SA's Riverland Education Program and now, in the final week of the campaign, Kickstart for Kids has accepted a delivery to support its school's breakfast program.
Market Fresh SA's Pick a Local Pick SA! Campaign team visited a primary school with Kickstart for Kids volunteers to distribute the fruit to the breakfast program that currently runs in some 350 South Australian schools.
"We're so excited about the taste and flavour of the SA new season citrus – the whole family will love them." said Pick a Local, Pick SA! Campaign Manager Penny Reidy. "The generous donation from the South Australian growers will give an energy boost for kids, and are a great addition to a lunchbox for school or work."
"After distributing some two tonnes of donated fruit from SA Growers, a great way for the community to show their support is through the simple act of purchasing a kilogram of oranges when they can this season." said Reidy.
KickStart for Kids Founder Ian Steel, said "KickStart for Kids supports over 350 South Australian Schools with some 50,000 breakfasts per week offering kids an opportunity to begin the day with a healthy start to be fully engaged and ready to learn."
"We are grateful for the support of the South Australian Produce Markets, Market Fresh SA and all of the Citrus growers in South Australia. We were delighted to accept this delivery to support our School's Breakfast Program."
South Australian Produce Market CEO, Angelo Demasi, said "The wholesalers and growers have been delighted to provide the generous donation of citrus to South Australian school children. Citrus is a great source of Vitamin C and experts advise that regular intake of Vitamin C helps to keep your immune system strong and assist your body to fight off disease."
Citrus SA CEO Mark Doecke Said "South Australian citrus is now available and in good supply and tasting great. Supply will be around our average this year and prices so far are very good. The 2020 citrus is set to be even better than 2019 for consumer as we have less wind blemish this year and slightly larger sizes due to a long hot growing season"