Recipe Alert: Roasted eggplant with capsicum hummus, pomegranate & herbs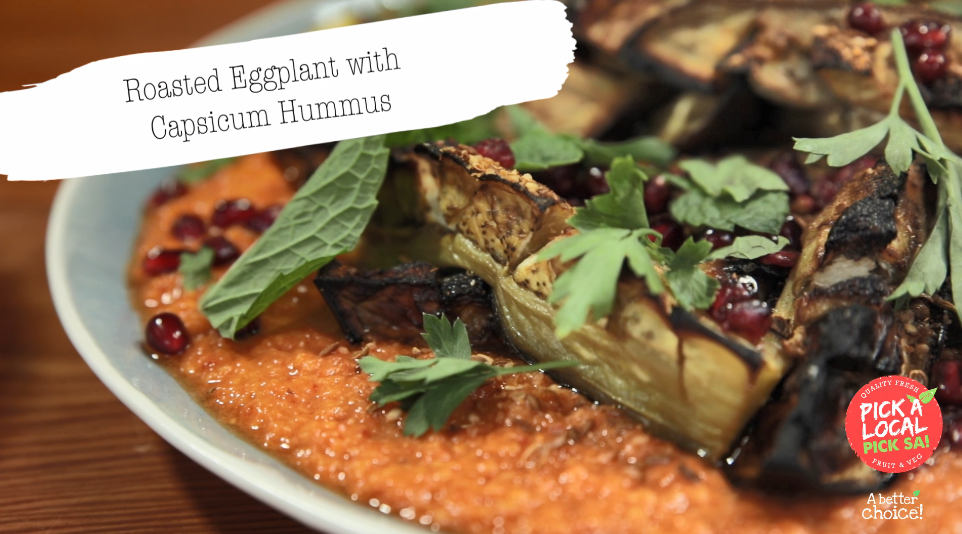 Ingredients:
2 Red capsicum
400g Can chickpeas, rinsed and drained
2 Garlic cloves, finely grated
2 Tablespoons olive oil, plus one tablespoon extra
Zest and juice of 1 lemon
2 Eggplant
2 Tablespoons sesame seeds
2 Tablespoons coriander seeds
1 Tablespoon fennel seeds
2 Tablespoons cumin seeds
2 Teaspoons paprika
½ Bunch mint, leaves picked
½ Bunch parsley, leaves picked
1 Pomegranate, seeds removed
Method:
Preheat oven to 240°C. Place capsicums on a baking tray and roast for 15-20 minutes or until the skin has blackened. Transfer capsicums to a covered container or bowl to steam. Once cool enough to handle, peel capsicums and discard skin. Transfer flesh to a food processor and combine with the chickpeas, garlic, two tablespoons oil and lemon zest and juice. Blitz until smooth. Set aside.
Reduce oven to 200°C. Cut eggplant in quarters length ways, then score in a criss-cross pattern. Place eggplant, cut side up, on a lined baking tray and drizzle over remaining one tablespoon oil. Roast for 25-30 minutes or until golden brown and tender.
Meanwhile, heat a small frying pan over medium-high heat. Add sesame, coriander, fennel and cumin seeds. Toast until lightly golden and fragrant. Transfer to a small food processor or mortar and pestle. Crush until coarsely ground, then stir through paprika.
Spread roast capsicum over a serving platter. Arrange eggplant on top and sprinkle over dukkah. Garnish with herbs and pomegranate seeds.