Case study – Ceravolo and CHEP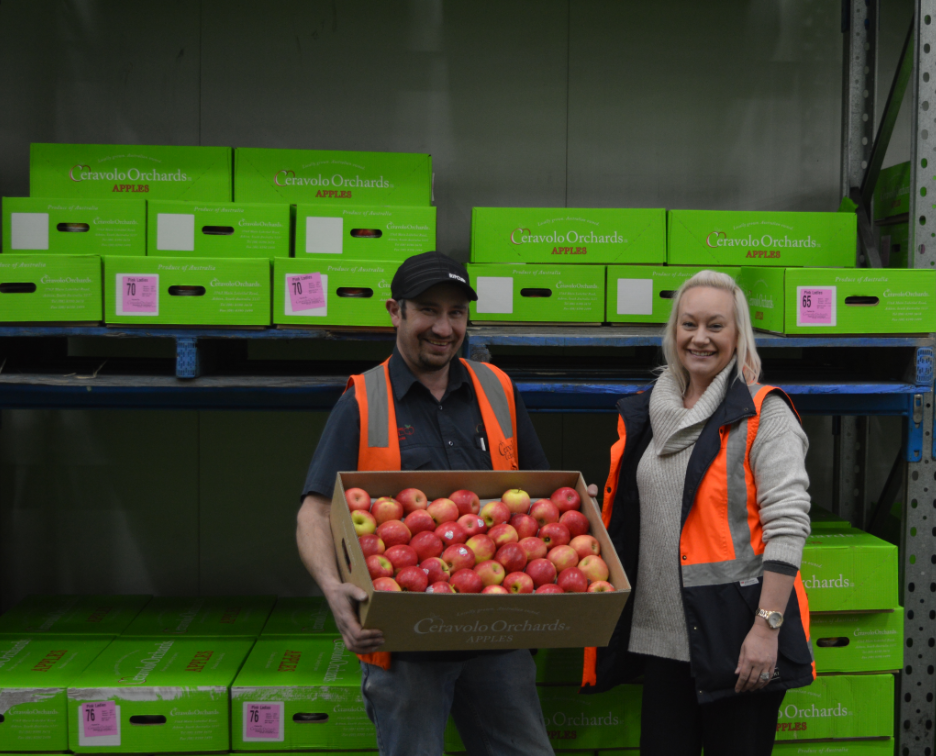 Saving time and reducing costs: Ceravolo Orchards unlocks supply chain efficiencies with new share and reuse model at South Australia Produce Markets.
Ceravolo Orchards and CHEP work together to optimise supply chain performance
Ceravolo Orchards is a leading, family owned fruit grower, and wholesaler that is passionate about providing the highest quality fresh produce and delivering exceptional customer service. Started in the 1950s by Ralph and Josephine Ceravolo after migrating from Italy, the business initially began growing potatoes, onions, cauliflowers and cabbages.
Today the business is run by Ralph's sons Tony and his brother Joe Ceravolo (Ralph Junior), plus also supported by the third generation of the Ceravolo family – Joyce and Joseph. Under the family banner, the business has diversified its operations to include Ceravolo Orchards focused on fruits  specifically apples, cherries, pears, strawberries, to name a few, which is run by Tony and Ashton Valley Fresh run by Joyce and Joseph, which makes freshly squeezed juices.
With eight properties across 300 hectares of land combined with state-of-the-art infrastructure and technology, the business is one of the largest suppliers for major supermarkets across South Australia.
To safely handle and move produce and their juices in their supply chain, Ceravolo Orchards uses CHEP pallets, bins and Intermediate Bulk Containers (IBCs). By sharing and reusing CHEP's sustainable equipment, Ceravolo Orchards are able to redirect capital investment to their operations and focus on their core business.
Antonio Ceravolo, Chief Executive Officer at Ceravolo Orchards, said, "Our business is driven by a passionate team of 100 staff. As a team, we pride ourselves on delighting our customers with consistent supply, quality and service. We share an unmatched passion for food and innovation. We are always looking to improve and grow."
The Opportunity
Focusing on reducing operating costs within the markets, CHEP alongside Fresh Markets Australia, growers, wholesalers like Ceravolo Orchards and buyers identified an opportunity to improve the reusable equipment model. This was supported by SA Produce Credit Pty Ltd and the South Australian Chamber of Fruit & Vegetables. These improvements were necessary as previous processes for sharing and reusing equipment were time consuming, made controlling equipment difficult and resulted in inefficiencies.
The Solution
The inefficiencies of the previous process were impacting Ceravolo Orchards' core business. Recognising this and learning more about the new share and reuse model at the South Australia Produce Markets, Ceravolo Orchards decided to engage with the team at CHEP. By signing up with CHEP, Ceravolo Orchards saves money by only paying for what they use and this has provided improved transparency of movements with their trading partners.
The Results
As a result of this partnership, Ceravolo Orchards have reduced their operating costs and improved their equipment control. They now pick up CHEP pallets and bins at onsite locations. CHEP has collaborated with Ceravolo's system provider to automate transactions and Ceravolo's utilise myCHEP to monitor equipment flows.
Mr Ceravolo says, "Since signing up, we've been able to reduce costs and save time in our supply chain. We're now able to concentrate on the tasks that make us money and focus on areas that enhance our operations."
"The proactive support and communication from CHEP has also helped ensure that our business runs smoothly. CHEP is a valued supplier in our network and we look forward to continuing to partner together to optimise supply chain performance, improving the environment and reducing costs."
This initiative by Fresh Markets Australia (FMA), the SA Chamber of Fruit and Vegetables and CHEP is a step in the right direction for the future growth of the fresh produce industry and the markets. This will allow other more efficient and environmentally sustainable reusable solutions to be used such as CHEP Reusable Plastic Containers (RPCs) and Foldable Bins. CHEP is collaborating with the FMA and chambers in other central markets to launch the initiative in other states this year.