Pick a Local Pick SA! RAISES $75,000 FOR SA GROWERS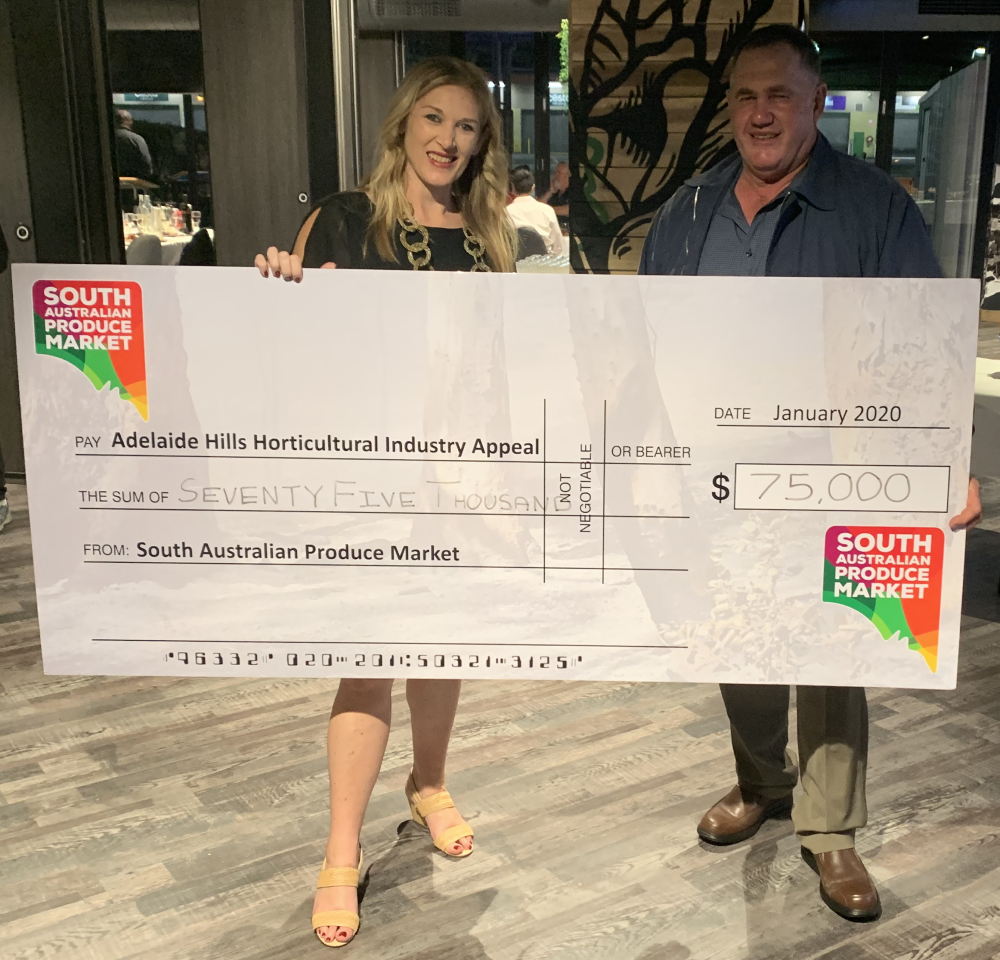 Pick a Local Pick SA! has raised $75,000 for Adelaide Hills' growers and their families to assist in the recovery following significant crop damage caused by the recent bushfires.
The organisation, which is the marketing arm for the SA Produce Market at Pooraka, since January has rallied local residents, organisations and businesses to raise much-needed funds for the Adelaide Hills Horticultural industry
Among the appeal's key donors were the SA Produce Market, Radio Italiana, Romeo's Supermarkets, Drakes Supermarkets and in-store collection tins that were scattered across 100 independent fruit and vegetable retailers across SA
The appeal concluded with a final fundraising dinner, dubbed the Produce to Platter Fundraiser, at the SA Produce Market in Pooraka on Saturday February 15. Here, a cheque was presented to the Apple and Pear Association chairwoman Susie Green and one of the affected growers, Malcolm Parker.
Pick a Local, Pick SA! Campaign Manager Penny Reidy said support from the community towards the fundraiser was overwhelming and thanked those who contributed.
"Growers across South Australia are doing it tough in the wake of the devastating bushfires, which wiped out a number of crops in our key horticultural regions," Ms Reidy said.
"This event has not only impacted business operations and the market as a whole, but also countless families and the wellbeing of our growers in all aspects of production.
"Pick a Local Pick SA! wanted to provide a sense of relief to our growers and saw the opportunity to provide some financial support through fundraising efforts. We were overwhelmed with the amount of donations received from the community and local businesses – we can't thank you enough.
"We were delighted to present the Apple and Pear Association and one of the fundraising recipients, Hills grower Malcom Parker, with the final cheque at our Produce to Platter Fundraiser dinner on the weekend.
"In the meantime, I encourage South Australians to continue supporting our growers by taking the opportunity to purchase their fruit and vegetables from independent retailers who display the Pick a Local, Pick SA! sign in their stores."
A.F. Parker and Sons owner Malcolm Parker lost about 130 acres of land at Woodside during the bushfires. About 8,000 apple trees and 40,000 strawberry plants were burned to some degree.
The family also lost a significant amount of water, fencing and pipes, and an estimated $200,000 worth of netting.
"There is still a lot of unknowns, we can't estimate the total damage just yet," Mr Parker said.
"We had 8,000 apple trees burned in some capacity, but we won't know how many will survive and how many will die for probably another two years. That's just how they work.
"It was definitely tough, but there are others who suffered far worse than us. That's why I think these fundraisers are a good idea. They make people feel like someone appreciates them.
"Bushfires are just part and parcel of living in the Adelaide Hills. But it definitely hurts when they happen. All I can say is it's nice to know someone is thinking about us and trying to help."
ENDS
About Pick A Local, Pick SA!
Pick a Local, Pick SA is a South Australian based campaign run by Market Fresh SA. The South Australian Produce Market and SA Chamber of Fruit and Vegetables Industries have come together to form Market Fresh to highlight the important role the independent retail sector play in the local horticulture industry. The independent retail sector consists of local business owned by local South Australian families who source the bulk of their produce from local growers.
The Pick a Local, Pick SA campaign reminds customers that when they see this logo, they can feel assured that they are not only buying fresh produce that was handpicked this morning from growers and wholesalers at the South Australian Produce Market. They are also supporting local businesses, local families, local growers, local communities, local jobs, the local industry and the local economy.
The campaign consists of extensive print and social media advertising, regular competitions and in-store promotional activities.
As of 2018, Pick A Local, Pick SA! is working with national brand 'A Better Choice' to extend the reach of the campaign to truly support all of Australia.
www.pickalocalpicksa.com.au